Women's International Center sistership & Scholarship Recipients
2014 Women's International Center Sistership Recipients:
With special thanks to Other Worlds (Women's International Center Outstanding Organization Award 2011) and to the brilliant and courageous author activist Beverly Bell, as well as to Christie Keith (GAIA No-Burn) and Neil Tangri for nominating our 2014 Sistership Recipients. One nomination reads: "Anjali Pawar runs an NGO called Sahkee which campaigns against the practice of selling children into foreign adoption and reunites adopted children with their birth families. International adoption has become so lucrative that adoption agencies often arrange the adoption of children who are not orphans, and whose parents have not agreed to their adoption."



Anjali Tara Babanrao Pawar
Combatting Child Trafficking in India and the practice of selling children into adoption without the permission of parents. Born to a family of farmers in 1975, Anajali Tara Babanrao Pawar takes her mother's (Tara) and father's (Babanrao) last names. She was schooled in rural Maharashtra and went to Pune to study science and chemistry, completing a Masters degree in social work. She began working for children's rights in 1998 and in 2003 she founded Sakhee, meaning "beyond friendship," whose mission is to protect the inherent rights of children. Sahkee works directly with local communities to help with organizational tasks, networking, media, legal and political advocacy, lobbying and training. The scope of Sakhee's activities includes all of India where training and support are available, and the group has a special focus on the Maharashtra. Since 2006 Ms. Pawar has worked with the international organization Against Child Trafficking (ACT), Netherlands (againstchildtrafficking.org) whose main focus is the prevention of child trafficking for inter-country adoption. ACT advocates for child rights based social policies that are in compliance with the UN Convention on the Rights of the Child, which is the universal standard and the best safeguard against child trafficking. ACT monitors inter-country adoption practices worldwide and conducts research on child rights issues, particularly those that effect children deprived of parental care and trafficked children. In her capacity as consultant for ACT, Ms. Pawar has reunited several adoptees with their families and also assists families whose children were trafficked for adoption. Ms. Pawar, through Sakhee, conducted a study on the racket of child begging. She tirelessly works to stop child begging through family as well as government intervention. More recently she has devoted her work to cases of Child Sexual Abuse and to ensure that the cases are properly registered under the new laws in India so that children will get proper assistance in overcoming the trauma of sexual abuse. Online: facebook.com/sakheeorg, www.againstchildtrafficking.org
Photo Credit: Maggie Gutam




Tian Qian
Leader of the China Zero Waste Alliance, head of the Friends of Nature Waste Program, known for her work in Anhui province and Beijing. Tian Qian is a young woman whose dedication, bravery, and kind concern for all living beings has led her to play a leadership role in the movement for environmental justice in China's major urban areas. She has led major research projects calling for transparency and accountability in the reporting of pollution from waste facilities, and is active in building a coalition to call for more sustainable, livelihood-protecting, and healthy solutions, such as food waste composting, less packaging, and more recycling. Tian Qian is respected by her colleagues and known for her work in Beijing and also in the Anhui province, where she was a leader for several years of the Wuhu Ecology Center. .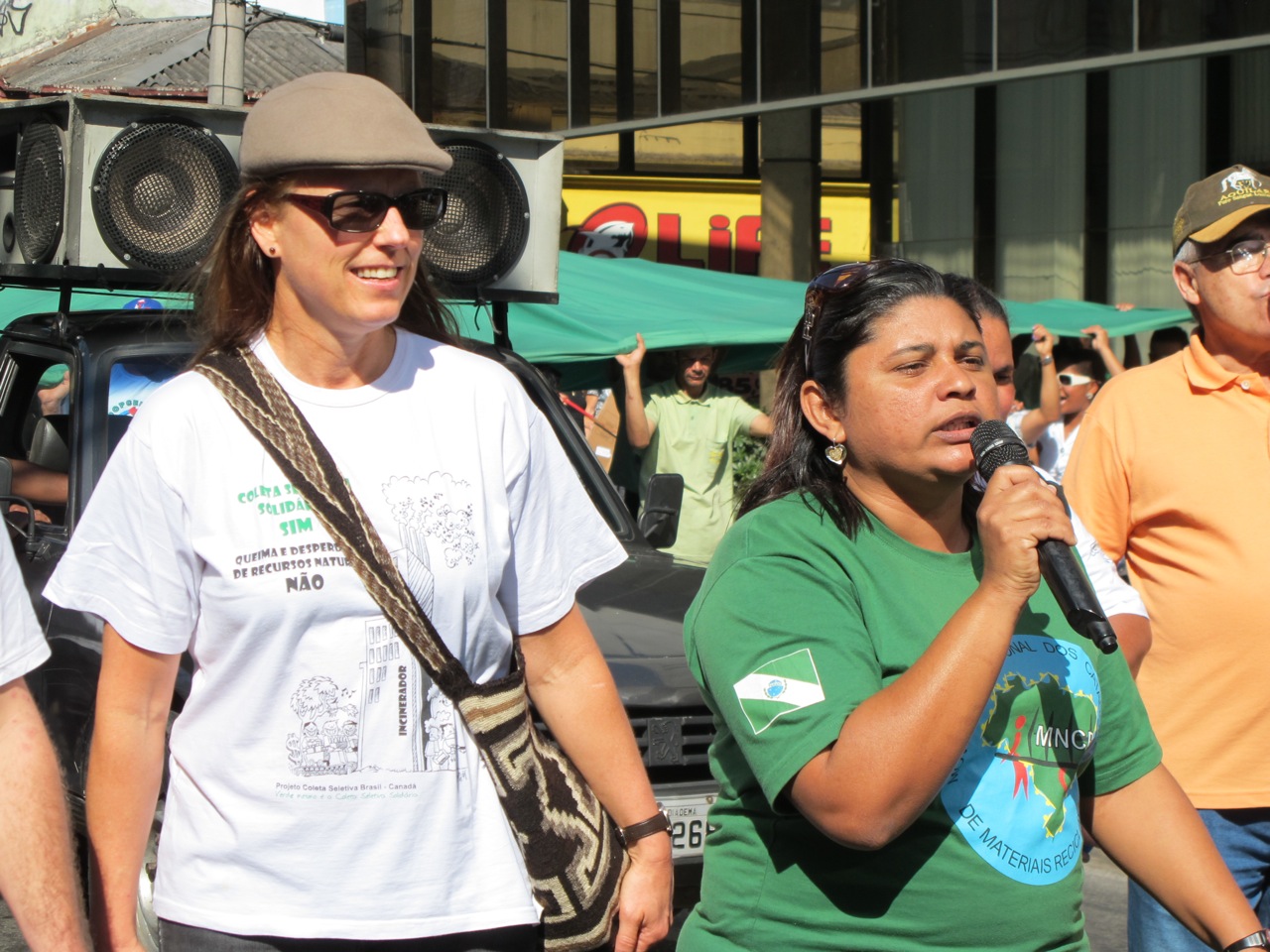 Maria Monica Da Silva, Catadora (woman recycling leader) from Diadema, Brazil.
Although she grew up financially poor, without resources or education, Maria Monica da Silva has become a powerful advocate for waste picker inclusion and environmental justice and co-led the first community victory against a proposed waste-to-energy incinerator in Sao Paulo, the most populous state in Brazil. The incinerator proposal was among the most developed plans in a substantial, new wave of incinerator proposals in the country, and was initially expected to be readily approved and implemented. A powerful coalition of waste pickers, environmentalists, and other community members led protests and brought legal action to stop the incinerator -- an environmental victory that other municipalities in Brazil, and beyond, can look to with hope. The identification of "irregularities" in the contracting process sets an important precedent -- given the role that corruption or the "cutting of corners" can play in furthering the approval of projects harmful to the environment and to community health. Maria Monica's leadership in this effort grew out of her experience in building the capacity of the waste picker movement locally and connecting the waste pickers with other movements. Maria Monica has created significant improvements in the situation and recognition of the wastepickers / recyclers in Diadema and other cities in the ABCD region in Sao Paulo, Brazil (formed by four municipalities in southern Sao Paulo: Santo André, São Bernardo do Campo, São Caetano and Diadema). The vast majority of these recyclers are women, and together they make an enormous environmental contribution, but the value of their work is too often unrecognized. Armed only with persistence, dialogue, and the ability to organize, Ms. Da Silva has helped these recyclers gain recognition and a fair economic return for the important work they do to make these cities more sustainable. She is also a leading voice in the Latin American Recyclers Movement for women's rights organizing at the center of their environmental and labor struggles. Online on Facebook: Mncr - Movimento Nacional dos Catadores de Materiais Recicláveis
Photos used with permission, top photo by Magdalena Donoso of GAIA No-Burn

Women's International Center Scholarships and Sisterships support of Women's Education and Empowerment
2012 Women's International Center Scholarship Recipients:
Little World Community Organization in support of Schools for Girls in Pakistan
Hope looks like 30 schools financed by the people who attend the school. Hope looks like 4,000 students where there used to be almost none.
In Pakistan, Little World Community Organization is helping the poor to end poverty by honoring their simple and effective motto: "Help Others to Help Oneself."
LWCO has taught thousands of impoverished village women to be respected community leaders. They are becoming teachers who educate their communities and families. Inspired by hope, they often learn to read and write in one year. They also learn to make beautiful and creative crafts like embroidered greeting cards to support their schools, homes, and most recently, 2010 flood victims. Five dollars, the cost of one card, is also the cost for one person to attend an LWCO school for one year. LWCO grew to two thousand women in its first year. There are 30 schools and dozens of requests for more. LWCO supports the foundations of prosperity: generosity, independence, cooperation, confidence and creativity. http://lwco.org
see the video here: http://www.youtube.com/watch?v=vOegxNYZ2Jo&feature=youtube_gdata.

The White Rainbow Project (WRP) is a Christian humanitarian organization dedicated to helping the widows of India. It was inspired by the film "White Rainbow" which chronicles the struggle to change centuries of injustice and cruelty towards widows in India. The WRP primarily works in Vrindavan which is known as "the City of Widows" because over 16,000 widows live in desperate conditions there. Oprah Winfrey recently highlighted this mysterious city on her show and called it one of the most disturbing places she has ever visited. The WRP partners with local Indian non-profit organizations to help destitute widows by providing shelter, food, medical care and vocational training. We lead WRP service volunteers several times a year to not only provide physical care for these women but emotional support as well as we demonstrate love in many tangible ways. We hope that the trips will be meaningful and life changing for the participants as well as for the women for whom we care. To learn more please visit our website at www.whiterainbowproject.org Seek justice, rescue the oppressed, defend the orphan, plead for the widow. Isaiah 1:17
With special thanks to Other Worlds (WIC Outstanding Organization Award 2011) and to the brilliant and courageous author activist Beverly Bell for nominating most-deserving Emem Okon and Berta Cáceres for 2012 WIC Sisterships:


Emem Okon has been selected to receive a WIC Sistership in 2012 for her important work in Nigeria in support of human rights. She is featured in Birthing Justice: Women Creating Economic and Social Alternatives (Beverly Bell and Other Worlds, 2012), a collection of 12 interviews with empowered women who offer alternative visions as they birth a new and more just world order.
By Emem Okon. Port Harcourt, Niger Delta, Nigeria -- "I am a community mobilizer with a passion for mobilizing women for action, for peace, and for their rights. I work with Kebetkache Women Development & Resource Centre in oil-impacted towns and villages -- that is, in areas where oil companies are drilling -- in the Niger Delta. Here we have Shell, we have Chevron, we have ExxonMobil, among others. Two problems are neglect of the region in terms of development and also the degradation of the environment by the oil companies. There are serious cases of oil spills and gas flaring -- horribly toxic for the environment and the people. We're not getting anywhere in getting the oil companies to clean up..."
Berta Cáceres is a strong, brave, passionate, sensitive, and motivated humanitarian who is a dedicated to human rights in Honduras, Central America. The Women's International Center honors her with a 2012 Sistership in recognition of her bold and fair voice and actions, always used to defend justice.
"Ms. Cáceres is a leader of The Civic Council of Popular and Indigenous Organizations of Honduras (COPINH) that has made public declarations against systematic repression and human rights violations. They condemn acts of violence, including assassinations (for example of Nery Orellana and others who have defended human rights).
Other Worlds received an urgent appeal from their friend and ally Berta Cáceres of the indigenous organization COPINH in Honduras. Berta said that, as has been the case with all of the groups resisting the military coup in Honduras, COPINH had suffered an increasing number of death threats and attacks against them. When members of COPINH traveled to attend the launch of a sister radio station in a nearby community, the house that they were staying in was shot up with high caliber weapons. They have been followed and monitored openly, the young people who worked on their community radio station had been threatened, and there had been attempts to block the frequencies of the stations. Six Honduran journalists had been murdered. We are filled with outrage and sadness at these vicious attacks against incredible people who have dedicated their lives to creating just alternatives." Quote taken from www.otherworldsarepossible.org, used with permission from Other Worlds. Photo credit: Lauren Elliott
2011 Women's International Center Scholarship Recipients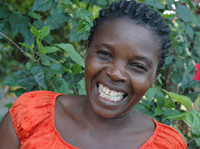 Helia Lajeunesse, a women and children's rights activist in Haiti. Helia is a dedicated and effective outreach worker in the movement against child slavery and gender-based violence in Haiti. She is deeply engaged in community education and intervention, working full-time as a volunteer with the organization Commission of Women Victim to Victim. Helia's work is not only based on passion. Her entire life experience is a reflection of the need to combat child slavery and gender-based violence in Haiti. Helia is herself a former child slave, a rape survivor, and the widow of an assassinated husband. Her daughter and 4-year-old granddaugher have also been raped. In her deepest moment of poverty and despair some years ago, before she became conscientized and active, Helia was forced to put all her children except a small baby into the child slavery system. She has since reclaimed her children. Now Helia raises four children (a fifth was killed in the earthquake) and her granddaughter on her own, with no form of support except occasional small gifts from friends. Please see the following link to read Helia's testimony from the National Catholic Reporter's Cry Justice! Cry Hope! publication: http://ncronline.org/news/women/former-slave-fights-slavery. (Nominated by Other Worlds)
The Dr. William Kupiec Academy for Girls was officially opened on September 9, 2009, in Idah, Nigeria. This school is specifically for girls grades 7-12, in a country where girls may only receive an education up to the 6th grade. The school provides education and housing as well, for both Christian and Muslim girls. Current enrollment is at 78; however, upon completion of the school, will be able to accommodate 400 students, which will mean adding one class per year. The Academy is one of the most recent projects in Nigeria by Friends of the Poor, a La Jolla-based non-profit organization. While they are still working diligently to raise the funds for completion of the school, they are simultaneously securing donations for scholarships. A year's scholarship for one girl is $900; however, we are most grateful for scholarship donations in any amount, as those can be pooled together for a full scholarship or subsidize those girls on partial scholarship. Mrs. Jean Colarusso, President of Friends of the Poor (and Women's International Center Living Legacy), has said, 'The future of Africa lies with its women. The women are so eager to play a larger role in what happens in their towns, cities and countries. When they are given a job, they make the most of it and no opportunity is wasted. Educating these women is the very best thing we can do to make a difference in Africa. (Nominated by Jean Colarusso)
2005 Women's International Center Scholarship Recipients
Lisa Sanders Born in Philadelphia, Pennsylvania, Lisa Sanders began singing street corners at an early age with her older brother Ty. When her mother remarried, she moved Lisa and her brother to Argentia in Newfoundland, Canada where all of the siblings, now numbering 5, began listening to music and performing for their parents in a home where music was played daily. Lisa eventually moved to Southern California where she grew as an artist. After the 2004 release of "Hold on Tightly" through her own record label Maya Jade Records, produced by the Truckee Brothers, Lisa had a chance meeting with alternative country songwriter Lucinda Williams. What happened next was, in Lisa's words, "As a black woman, I had a musical spiritual awakening. It transformed the way I viewed myself and my music forever". That led to the 2004 release of her album "Last Night In Roseburg." Women's International Center is proud to award Lisa Sanders with a Sistership in honor of her heartfelt honest songwriting and singular musical performances unmatched by any other personality in the music industry.