Gloria J. Lane Ph.D. 1932 - 2013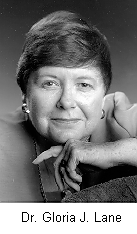 Gloria Lane received a Master's degree from Bowling Green State University, Ohio, she went on to receive a Ph.D. from Northern Illinois University. She taught Communications for thirty three years as a college professor in several universities, including Northern Illinois, U of Illinois, U of Chicago and National University. She joined the US Air Force as an Airman and went to Officer's Candidate's School, and within a four year period was raised to the rank of Captain. Dr. Lane has been a talent agent and news publisher for many years and has authored three books, including Who's Who among San Diego Women, Women in Business, and Positive Concepts for Success. Gloria is mother to one child, Julie Kay, who is also a bilingual educator in middle school education in Santa Cruz. Ms. Kay adopted four children.
When Gloria turned forty, she decided she would come out to California, so she hopped on her Honda 500 motorcycle and drove out to establish her life in San Diego. Her past jobs include being a taxi driver, waitress, and factory worker when there were no teaching jobs available. Dr. Lane was also a caregiver for over a year to a patient with Multiple Sclerosis.
On October 6, 1982, at her fiftieth birthday celebration, Gloria received a telephone call from her physician. He told her that she was
"officially" diagnosed with Multiple Sclerosis. With destiny staring her in the face on that fateful night, Gloria made a critical decision. She could give in to her illness, or she could make it work for her. She courageously chose vision over a victim mentality. On that day, the Women's International Center was founded. The motto of the organization was and is "Education Through Communication." The mission remains steadfast: "Acknowledging, Honoring, Encouraging and Educating Women."
Contacting her already established power base (Gloria was an often-booked speaker on the San Diego women's organization meetings circuit), she shared the power of her dream, and many others rapidly became active advocates. In less than three months, Women's International Center acquired its [501 c 3] nonprofit status, secured an office with a volunteer and paid staff, developed a women's library and a small art gallery, which quickly allowed courses, seminars and workshops to begin and flourish. Many of San Diego's social and community leaders soon became members, enthusiastic volunteers and generous financial supporters. The message, the mission and the core community rapidly grew. It continues.
By October, 1983, it was determined to establish an award to further fulfill WIC's stated purpose: "Acknowledging,
Honoring, Encouraging and Educating Women." In honor of International Woman's Day, the first annual Living Legacy Awards Presentations took place on March 8, 1984, at the historic Hotel del Coronado. From that glorious beginning to this day, over three hundred of the world's exceptional contributors and humanitarians, from presidents to movie stars to scientists to athletes to business, political and military leaders and people from all walks of life have accepted the Living Legacy Award. Thousands of dollars in scholarships and sisterships have been given to mature women who also want to grow.
Today, Women's International Center reaches millions through our global network on the internet. WIC went online in May, 1995, and we are already linked to many other online women's groups, worldwide. One of our goals is to provide a Global Townhall on the internet which offers interactive meetings with the world's most informed and powerful women. WIC continues to grow: the Living Legacy Awards bring more legacies together annually from all countries and more women are being educated and empowered.
We love and live what we do!
Gloria Lane
Founder, President (with loving assistance from our dynamic WIC team)
PLEASE HELP US CONTINUE THE GROWTH


The Women's International Center celebrates our founder Gloria J. Lane, PhD 1932-2013, Author, Leader, Visionary, who valiantly fought a battle with multiple sclerosis, always choosing a victor over victim mentality.
About Women's International Center
Women's International Center was founded in 1982 as a non-profit education and service foundation [501c3] with the mission to "Acknowledge, Honor, Encourage and Educate Women." For nearly thirty years, at our Living Legacy Awards ceremonies, we have brought hundreds of people together to celebrate the accomplishments and positive and lasting contributions of women. Many now know, understand, appreciate, and hopefully incorporate the gifts women have given to improve the world. We have gathered some of civilization's great women and men whose deeds have genuinely benefitted humanity. Our honoree list of over 300 is a veritable "Who's Who" of global innovators and humanitarians.
Read more