Our Mission and Purpose
Women's International Center was founded in 1982 as a non-profit education and service foundation [501c3] with the mission to 'Acknowledge, Honor, Encourage and Educate Women'. For nearly thirty years at our Living Legacy Awards ceremonies, we have brought hundreds of people together to celebrate the accomplishments and lasting contributions of women. Many now know, understand, appreciate, and hopefully incorporate, the gifts women have given to improve our world. We have gathered some of civilization's great women and men whose deeds have genuinely benefitted humanity.
Our honoree list of over 300 is a veritable 'Who's Who' of global innovators and humanitarians. To further Women's International Center's worldwide outreach, our award-winning informational and educational website wic.org is filled with women's remarkable deeds, accomplishments, legacies, and history -- including short biographies of Living Legacy Award recipients. Our website directs readers to vital information about economic, legal, medical, emotional, and psychological aid, as well as 'Safe Houses' for those needing professional assistance. We also provide direct links to other valuable organizations specifically geared to helping and improving the lives of women.
Historically, Women's International Center has been deeply involved with women in Africa and South America through our foreign assistance programs by providing educational and safety information, as well as economic resources, to refugees and displaced women. Our activities have included working directly with international, national, and local organizations that assist refugees; assisting women to adapt and adjust to living in the United States; providing economic, medical, and personal safety information to those in need; assisting women to receive academic acceptance and gainful employment.
Women's International Center has also provided charitable gifts to non-profit organizations offering aid and/or safe houses for battered or homeless women and we have proudly presented many thousands of dollars in Sisterships (scholarships) to scores of girls and women since 1983. We are committed to sustainable and environmentally sensitive solutions for our world. Women's International Center's motto is 'Education through Communication.' To this end, we have created the TOES Network (Tools for Online Education...helping students gain intellectual mobility), an online resource for anyone with an internet connection who wants to spread general education k-12, including links to open source and free usage university networks.
We enthusiastically promote and support the work of active established international partners. Women's International Center believes that if someone (for example Living Legacy Jean Colarusso), or an existing group (for example Other Worlds Are Possible) is doing a good job, why reinvent the wheel and try to devise new outreach initiatives from scratch. We prefer to support and bring attention to efficient operations worldwide that have a proven and established track-record, with reputable representatives on-the-ground, and low administrative overhead.
A labor of love and dedication, Women's International Center grows within our means and we do not spend funds that we do not have. We need and welcome corporate, government, and private sponsors who believe in our mission of honoring and encouraging women, so that all who learn from us -- whether daughters or sons, wives or husbands, leaders of villages or countries -- may in turn make their own voices heard, and lead by example. We live in a politically charged world. Despite differences in opinions regarding religion, politics, governments, gender, social and economic status, language, etc, that exist in any group, Women's International Center strives to achieve harmony for the benefit of the the general worldwide good in the belief that we are one people and one living community, breathing the same air, waking to the same sun, and resting beneath the same moon. In honor of our 501c3 status, we side with no political party or specific religion, but believe that just leadership and tolerant spirituality that respects human rights are keys to a sustainable world. We are a collaborative non-exclusive organization.
We love and live what we do!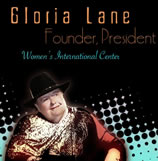 Women's International Center Team
The Women's International Center was founded in 1982 by Gloria J. Lane Ph.D. 1932-2013
Watch 3 min Biographical Film of Gloria's Story here: DrGloriaLane.mov
Brief History and A Look Towards Tomorrow
Since 1983, the Women's International Center has demanded excellence of itself and has publicly honored excellence in others.
On October 6, 1982, at her fiftieth birthday celebration, Gloria Lane, Ph.D., received a telephone call from her physician. He told her she was 'officially' diagnosed with Multiple Sclerosis. With destiny staring her in the face on that fateful night, Gloria made a critical decision. She could give in to her illness, or she could make it work for her. Courageously, she chose a vision over victim mentality. On that day, the Women's International Center was founded. The motto of the concept: "Education Through Communication." Our mission remains steadfast: "Acknowledging, Honoring, Encouraging and Educating Women."
Contacting her already established power base (Gloria was a college teacher and an often-booked speaker on the San Diego women's organizations circuit, and had been an entertainment agent and publisher), she shared the power of her dream, and many enthusiasts rapidly became active advocates. In less than three months, the Women's International Center acquired its 501c3 nonprofit status, secured an office with a volunteer and paid staff, developed a women's library and a small art gallery, which quickly allowed courses, seminars and workshops to begin and flourish. Many of San Diego's social and community leaders soon became members, enthusiastic volunteers and generous financial supporters. Our message, mission, and power base rapidly grew.
By October 1983, an award was established to fulfill WIC's stated purpose: "Acknowledging, Honoring, Encouraging and Educating Women." In honor of International Woman's Day, the first annual Living Legacy Awards took place on March 8, 1984, at the historic Hotel del Coronado. From that glorious beginning to this day, over one hundred of the world's exceptional contributors and humanitarians, from presidents to cinema stars, to scientists, athletes, musicians, artists, writers, medical, business, political, and military leaders, to people from all walks of life, have accepted the Living Legacy Award. Thousands of dollars of scholarships have been granted to women and organizations around the world as a result of generous contributions made at our awards ceremonies.
Today, the Women's International Center reaches millions of people through our global network on the internet with over 400 visitors/day to our website. WIC went online in May 1995 and we are linked to many other online women's and humanitarian groups worldwide. Our active team of dynamic co-chairs Dr. Marianne McDonald and Sally B. Thornton, along with leadership by CEO Bridget McDonald, Ph.D., and dedicated supporters (both new and longtime) help WIC to continue growing at a sure and steady pace. With the exception of 2010, when we suspended our awards ceremony in order to help a partner organization in Haiti in the aftermath of a devastating earthquake, our awards have been annual. The Living Legacy Awards bring more legacies together from all countries every year. More women are getting educated and empowered as a result of our work and resources online. The reach of our network expands daily as our founder Gloria Lane turns eighty years young - join us!
The Vision
"Thinking globally, acting locally, nationally and worldwide." Building A Living Legacy To All Women Online
Originally, the goal of the Women's International Center was to build a Women's International Pavilion, a living tribute to the significant contributions women have made to humanity. The Pavilion could be built in San Diego County, California, USA, and provide an international center for all the world to view and appreciate the great works of women. It could feature an accredited institute, library, performing arts center, galleries, tribute halls and archives in a setting of magnificent gardens where performance and creativity could reign supreme.
In the reigning age of Climate Change, however, we have proudly evolved -- as a fair team player on fragile planet earth -- to accept that instead of clinging to a vision of physical construction to honor our mission, we can use the many powerful tools available to us online to create an even more powerful and far-reaching virtual network of people and causes internationally. There are many brick and mortar structures already in existence wordlwide that may share their spaces with us if need be. WIC would like to lead by example, which means spending any raised funds on our scholarships and active international partners who achieve our mission of honoring, encouraging, and educating women.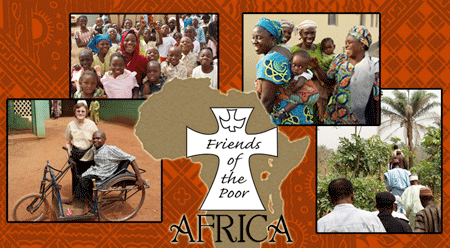 Founded in 1982, Friends of the Poor is a nondenominational service organization that works in partnership with relief workers in various parts of the world to provide necessary funds, material goods, medicines and food to aide in the alleviation of poverty and suffering.
In 1998, Jean Colarusso, President of Friends of the Poor, began organizing the first of many missions in Africa. Because of the growing needs in Africa, Friends of Africa was established in 2006 as an additional focus to the mission of Friends of the Poor. The current project of Friends of the Poor-Africa is to provide funding and supplies to build the Dr. William Kupiec Academy for Girls. http://www.friendsofthepoor-africa.org/
Honoring Jackée Harry - Women's International Center Global Ambassador
Emmy Award-winning actress, Jackée Harry is known for her iconic role as vivacious "Sandra Clark" on the NBC hit sitcom "227," as well as Oprah Winfrey's critically acclaimed "The Women of Brewster Place," "Sister, Sister" (which earned her multiple NAACP Image Awards), and "Everybody Hates Chris." She hopes to use her universal platform to uplift others in need and is working with The Women's International Center as our "Global Ambassadr to Women." She inaugurated her "Jackée Frappé" signature shake on Monday, May 24th, 2010 at Millions of Milkshakes in support of The Women's International Center - West Hollywood, 8910 Santa Monica Boulevard, West Hollywood, CA 90069-4902. Read more

Dr. E. Faye Williams, National Chair of the National Congress of Black Women, Inc., has announced that Ms. Jackee Harry, acclaimed actress and Emmy Award winner, was presented with NCBW's "Woman of Substance" award on September 19, 2010 at its annual awards luncheon in Washington, DC. For more information, go to www.nationalcongressbw.org or call 202-678-6788.

Jackée Harry is the Women's International Center Global Ambassador

When Jackée is abroad, her first thought must always be "What can I do or communicate to make this area healthier and happier?" As Women's International Center Global Ambassador, her main calling is to find ways to bring education to areas where it is lacking, encourage sustainable living and green practices, and empower women through encouragement, education, compassion, and communication. She is a spokesperson for the education of women internationally.
YouTube Video JACKEE HARRY For Women's International Center at MILLIONS OF MILKSHAKES http://www.youtube.com/watch?v=kEZSgeWT8GE&feature=channel